Las Delicias Loyalty program will get you free food and save you $$$ Come savor the best authentic Mexican food around. Stop in at our eatery at 26515 Golden Valley Road in Canyon Country, visit lasdeliciasscv.com, or call (661) 290-2625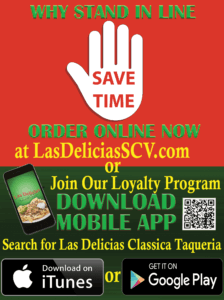 For those of you who can't wait to get home and want a great meal without having to cook: There is a better way here at Las Delicias on Golden Valley Rd.  Forget standing in the line at rush hour.
Now you can order ahead via our website: lasdeliciasscv.com. Once you've done that, you can come on over to the restaurant knowing that you'll essentially have skipped to the front of the line, without the hassle of angering the rest of the customers. Choose from your favorite dishes, whether it's a burrito, a quesadilla, a tostada, or a torta, Las Delicias has what you are craving.
At Las Delicias we offer the best authentic and traditional Mexican dishes in town. Our priority is to provide a great service and satisfy every costumer. The menu in the restaurant has a variety of delightful plates, made with high quality condiments and served fresh every day. We also have a salsa bar with irresistible sauces, freshly quartered limes, and delicious toppings to enjoy with the meal of your choosing.
Download our APP & Loyalty Program on your mobile device or order online – we make it simple, we make it fresh!
Why Stand in Line — Order Online! Eat In or Take Out | Las Delicias SCV