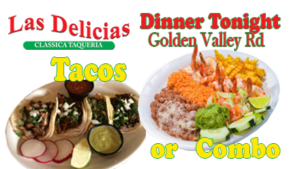 Thanks SCV for Dining with us! Get our Promo Code for some Great Food with a Great Deal. Proud member of SCVPROMOS.com (a HotSpot Local program). Get Promo Code
When you eat with us at Las Delicias Golden Valley Road, whether it's cheese enchiladas smothered in red sauce, a burrito stuffed with your favorites or a steak taco salad with all the trimmings, Las Delicias will hit the lunch or dinner spot. For over 15 years our family has been serving traditional Mexican cuisine. And now, you can save time by Ordering Online, now with delivery!
Breakfast, Lunch or Dinner… Satisfy your hunger.
For Catering, please contact us directly. (661) 290-2625
Beat the Rush, Order Online, avoid the lines and save time on Take Home or Dine In, for the best Mexican Food in SCV.Our priority is to provide a great service and satisfy every customer. The menu in  the restaurant has a variety of delightful plates, made with high quality condiments and served fresh every day. We also have a salsa bar with irresistible sauces, freshly quartered limes, and delicious toppings to enjoy with every meal.
All Catering Orders Include Onions, Cilantro, Limes, and Salsa.
We make it fresh, Wholesome and tasty! Eat with us at
Come see our Daily Specials! Eat in, or Order Online – Las Delicias Golden Valley:

At Las Delicias Golden Valley we offer the best authentic and traditional Mexican dishes in town.