Las Delicias Golden Valley Rd, Lunch and Dinner, Combination Special This Halloween!
We're serving the best Mexican food in the Santa Clarita Valley. Our combination plates are simply delightful! Choose from mouthwatering dishes including enchiladas, tacos, Al Pastor Carna Asada and more!
We serve our combination plates every week from Monday to Thursday. Don't miss out on our amazing special! Buy 1 combination plate and get another one at half off! Make Las Delicias Golden Valley your next food destination!
Also, Come in for the best Breakfast in SCV, find it at Las Delicias Golden Valley Rd.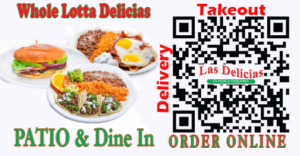 When it comes to authentic Mexican food, bringing together a combination of mouthwatering flavors is our forte. In Santa Clarita, our restaurant stands out: Las Delicias Classica Taqueria. Stepping inside, you are welcomed by the delicious scent of Mexican spices that will make you want to try everything on the menu. We will do everything we can to make sure that your craving for Mexican food, whether you are new or a regular to Mexican food.
Las Delicias offers a wide variety of combination dishes that you will love! From seafood and burritos to tacos & enchiladas. We serve breakfast, lunch, dinner, with combo plates, seafood, family dinners, meals for children, a la carte, sides, and event packages. You will be able to find something for everyone.
Our wonderful staff here will try to make your experience a great one by serving you the best food. Take some time to stop by with your family or friends and try some genuine Mexican cuisine in Santa Clarita Valley. We will do our very best to cook up great Mexican food for you by using nothing but the freshest ingredients and serve it to you in friendly atmosphere.
Looking for catering? If you need catering for large event, we have you covered! No matter the event, whether you are celebrating a special occasion or looking for really good Mexican food for a large group, our food will impress you and your guests. If you need information about our catering service, please contact us at (661) 290-2625, and we will be more than happy to assist. We provide fresh onions, cilantro, limes, and salsa with every catering order.
Call Las Delicias at

(661) 290-2625

 for more information on catering. Every catering order includes fresh onions, cilantro, limes and salsa.
At Las Delicias Golden Valley we offer the best authentic and traditional Mexican dishes in town. To see our reviews click the stars.
Scan the QR with your camera phone to place your order online now!

Pickup and Delivery – Order Online
Las Delicias 26515 Golden Valley Rd. Santa Clarita, CA 91350 LasDeliciasSCV.com